A Year to Plan Your Wedding
A Year to Plan Your Wedding
Weddings are no small thing to plan, but with our handy guide you can plan your dream wedding in 12 months. And don't forget to check out our downloadable checklist version of this article. Print it out, pin it to the fridge and tick as you go!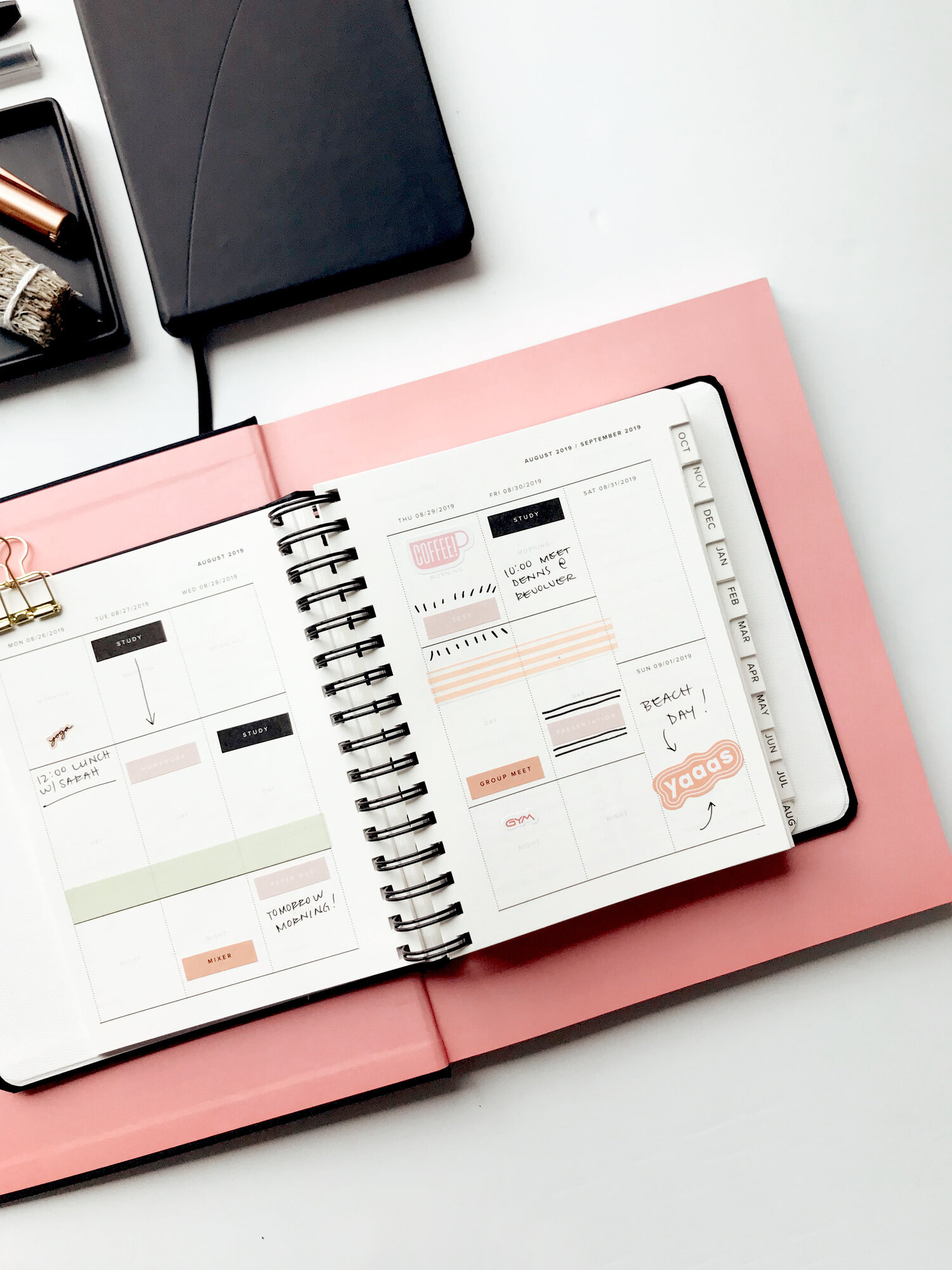 12 months to go
Determine style
You might not be quite sure what style of wedding you want just yet. Is it elegant simplicity? rustic? boho? Are you just not sure? That's absolutely fine! Now's the time to take to Pinterest and start determining your overall style for the wedding. Start by pinning everything you like the look of and you'll start to see you naturally lean to a certain style.

Budget
Whilst we'd all like the wedding of our dreams and no concern about the costs this is unfortunately not the case for most of us. Now's the time to take a realistic look at your finances and start to pull your budget together. Remember you'll need an overall budget and then individual rough budgets for everything from cakes to videographers.



Shortlist dates
You probably have an ideal date in mind. Maybe its the date of your first meeting, the first time you said "I love you" or an anniversary of years together. These are obviously going to be your ideal dates, but it's worth having a shortlist of dates to hand if these aren't available, or fall on days that are not ideal. It's also worth remembering midweek weddings will be cheaper than those held on a saturday.



Contact venues
Start contacting your venues and asking questions, requesting brochures and price lists and arranging to visit them. Good venues are booked up months and even years in advance so the sooner you start looking the better.

Guest Lists
It may seem a long way away but nows the time to start planning your guest list, not least of all because it will change a lot over time. Start by making a rough draft of absolutely everyone you would love to invite, then you will be able top whittle it down as venue constraints, budget and accommodation comes in to play.

Wedding Party
As above, start planning who will form the all important wedding party.Who will be the maid of honour, who will be the best man? It also is a great time to ask these people so that they can build their plans around the wedding.



Engagement Party
Nows the time to celebrate your engagement! This can be as formal or informal as you wish, and it's a great chance to get families and loved ones together.
10 months to go
Wedding Dress
It's never too early to start looking for that perfect dress. Especially as there will be alterations and many fittings along the way before you have your final dress you will walk down the aisle wearing.



Food Choices
Definitely one of the most fun elements and one you can easily do from the comfort of your own home - food tasting! Start planning the type of food you would like, is it a buffet? a sit down meal? will there be food for day and evening guests? When you've made your decision you can start contacting suppliers for menus and tastings.



Entertainment
No wedding is complete without some evening entertainment for all the guests. Will you be hiring a live band or a dj? And will there be any other types of entertainment to delight your guests. I've seen everything from fire eating and sword swallowing to an inflatable assault course. In the world of weddings, its your day and anything goes!



Photographer
Time to start shortlisting photographers and contacting them. Just like a good venue, good photographers are often booked a year or so in advance so don't leave it too late to contact your top choices.



Videographer
Just like your wedding photographer it's time to start contacting your videographer short list. Checking their availability and asking any questions before you book. Check out our blog on Four Tips to Book the Best Wedding Videographer.

Florist
Another all important part of your wedding is your florist, and you know what i'm about to say, a good one gets booked up! So don't leave this too late or you might not have the look your are expecting on your wedding day. Florists are artists and experts in their field so you may find that some of the flowers you are hoping for aren't available at the time of your wedding. Here's another place where those Pinterest boards come in helpful!



Hotels
If you're having a destination wedding, or your guests will be travelling some distance it's worth finding out if you can get a discount for block booking a local hotel. Even if this isn't the case, having some knowledge of local hotels and their pricings is useful to give your guests when you send out invites.



Gift Registry
Sign up for a gift registry and start making a list of the items you would like to receive (if any at all), whilst a gift list can sometimes seem presumptuous it makes life a lot more simple than receiving 6 toasters you really don't need. Or maybe you will be having a honeymoon fund, there are many ways you can do this from PayPal to a travel agent.



Furnishing Hire
If you will be hiring in any furnishings for your reception venue it's a good time to find those suppliers and confirm your requirements. A relatively straightforward one to tick of the list.



Save the Date
Now it's time to send your save the date cards out and make sure all your loved ones have the date firmly in their diary.
8 months to go
Ceremony Musicians
If you are having an orchestra or any musicians playing during the ceremony now is a great time to have these booked. You may go for a traditional orchestra or maybe some classical musicians playing a modern track that you love.



Bridesmaid Dresses
Time to find those all important bridesmaid dresses. A great way to make a day of it it with your nearest girlfriends is to find a large bridal shop or department store for trying on, have some champagne to hand and enjoy a girly lunch date afterwards.



Groomsmen Attire
Whether you plan to purchase or hire your groomsmen attire, now is the time for the first fittings and choosing the colours and styles of what will be worn on the wedding day.



Honeymoon Planning
Your honeymoon is often one of the biggest parts of your wedding, particularly if you are aiming for a trip of a lifetime. Whilst you might not be jetting off immediately after the wedding take some time to explore where you want to visit, hotels and the duration of your trip. There are many specialist honeymoon planners available who can take the stress away from planning.
6 months to go
Order Invitations
If you're having bespoke invitations made for you, aim to have these back and ready to send around the five to six months out mark. If you're having off the shelf invites start to make your choices now to ensure there is enough stock available and to allow time for more to be sourced if needs be.



Wedding Rings
Choosing wedding rings can take time, especially as adjustments may be needed. Start to shortlist styles you both like and when you've got these narrowed down head to your jewellers for a trying on session.



Formal Attire Choices
It's now time to choose what you will wear as Groom. There are many excellent hire options available and they will assist with fittings and stylings, ensuring you look your best on the day.



Wedding Cake
More taste testing now. This time for the all important wedding cake. Once you've decided on overall look, flavour it's time to short list your suppliers and organise some tasting days.
4 months to go
Hen do
Now is a good time to have your hen do, with the big day getting ever closer, excitement will be mounting so now it's time to decide if you and your girlfriends will be jetting off somewhere to top up those tans, experiencing some exhilarating activities or taking some much needed down time to enjoy a spa retreat and weekend long pamper session.

Stag Do
Boys will boys - so they say. 4 months out and stag do plans will be well underway. The sooner this is held the more chance of eyebrows growing back before the big day!



Wedding Website
If you're planning on having a dedicated wedding website to keep all your guests up to date it's a perfect time to get that launched. There's a vast array of brilliant website tools that require little knowledge to have a website that reflects you.


3 months to go
Order Wedding Cake
With all the tasting done and price lists sourced it's time to contact your preferred supplier, book them and leave it in their capable hands.



Hire Formal Wear
Call your chosen formal wear supplier and book your hire. This includes outfits for the Groom and Groomsmen as well as any other members of the wedding party who are hiring. Make sure to confirm with your supplier whether you will need to pick your formal wear up or if they offer a delivery service (this often take the headache out of lost ties and pocket squares on the day)



Hire Wedding Cars and Transport
Book your wedding car or carriage and any other transport you may need now. If your ceremony and reception are not at the same venue, consider putting on coaches so that you're guests can let their hair down and enjoy a glass of bubbly to celebrate.


2 months to go
Send Invites
Get those invites in the post. Whilst save the dates will have meant everyone has the day clear in the diary, invites give guests much needed information and allow them to plan things such as transport and accommodation.

Hire Hair and Makeup
If you're having hair and makeup done by a professional on the day, give them a call and book them now. Like all suppliers they should have a portfolio available so that you can decide if the look is right for you, ask for testimonials from clients and a lot of makeup artists and hair dressers will want to do a trial run (or possibly a couple) with you.



Wedding Gifts for the Wedding Party
If your planning on giving the members of your wedding party gifts it's a good time to organise these. Flowers for the mother of the bride, mother of the groom and bridesmaids can often be sourced from your florist so don't forget to mention this to them when you are discussing your wedding.


1 month to go
Final Fitting
Final wedding dress and bridesmaid dress fittings need to be done now. Although it's not uncommon for the wedding dress to still need a final tweak around 1 week from the wedding day.



Supplier Meetings
Call your suppliers, meet them in person or facetime them to go over final plans. Talk to your photographer and videographer about the must have shots, your florist about any final changes and remember to give them all the information they need to help your day run smoothly. Does your wedding cake maker know where to deliver? Is there a dedicated party member who will be dealing with deliveries on the day. Keep in touch with your suppliers and ensure your day goes without a hitch!



Order of Service
Finally, print your order of service to hand out on the day.


I hope this helps you to plan your wedding as easily as possible and I hope I get to be part of your big day!